Daniel Fisher
Managing Attorney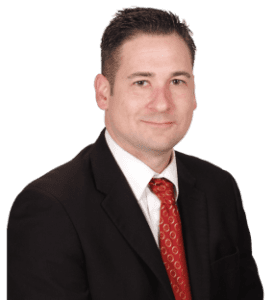 Daniel has thirteen years of experience as an Immigration Attorney and has been working with global mobility, handling thousands of cases. Additionally, he has a very strong knowledge of employment law and the connection between immigration and Federal and State employment regulations. Based on this experience there is rarely a situation that he has not seen before. He is AV rated perfect "5.0", Avvo rated "Superb", Avvo Client choice awards 2011, 2012, 2013, 2014, "Rising Star" Orlando Style Magazine, Lead Counsel Rated Attorney, has superb reviews online and has hosted a legal radio show for over a year.
He currently handles a wide variety of clients, including global relocation companies, in an outside counsel role, servicing their multi-national clients in the auto, tech, engineering, sports, construction, food and medical industries where he assists company Human Resource Departments in meeting their staffing and global mobility needs and has personal experience in handling a large volume of E-2 (new and certificates of enrollment), H-1B, PERM, I-140s, EB-1, EB-2, EB-3, EB-1C, L individual and blanket petitions, O, B-1 in lieu of H-1B, Schedule A, waivers and appeals, preparing public access files, auditing Public Access Files and I-9s for compliance issues as well as discussing tax implications of working in the United States in a temporary status and meeting with clients when obtaining new accounts and determining proper visa type.
Daniel also has significant experience providing written legal opinions, conducting research on novel issues pertaining to global mobility and counseling companies and their in-house counsel on their global mobility options as well as representing the company at conferences and on-site training.
Prior to working for Maney|Gordon|Zeller, he worked for a business immigration firm as well as managing a law firm that focused on business immigration. In this position he managed the daily activities of the firm as well practicing immigration law. His clients ranged from professors and researchers, software companies, entertainers, athletes and manufacturing companies and a strong reputation in the healthcare field, including successfully fighting USCIS to open up the H-1B program to the client hospital's nurses after it was initially closed due to the "specialty occupation" issue for nurses.
Daniel also has experience in lobbying the Department of Labor and United States Citizenship and Immigration Services. In the past, he has represented a firm and its clients in Washington, DC where he met with the heads of the Department of Labor Foreign Labor Division against changes in the H-2B program along with traveling to Chicago to the Department of Labor's office where they process Foreign Labor Certifications.
Lastly, he has a strong background in immigration courts and through the appellate system having appeared before immigration courts in over 27 states.
Education
Barry University School of Law, Orlando, Florida
Juris Doctor Degree, December 2004
Trinity College School of Law, Summer 2003
Dublin, Ireland
Participated in study abroad program at Trinity College. Studied the Irish legal system, European Union law and International Mediation.
University of South Florida, Tampa, Florida
Bachelor of Arts in International Studies, December 2001
University of South Florida, Tampa, Florida
Bachelor of Arts in Urban Geography, August 2001
Inlingua Language Institute, Lake Mary, Florida
Spanish Language Certificate, 2006 – 2007
Memberships
American Bar Association (ABA)
American Immigration Lawyers Association (AILA)
Orange County Bar Association and Young Lawyers Association
Seminole County Bar Association
Hillsborough County Bar Association
Awards and Recognition
AV Rated Preeminent 5 out of 5 Peer Review Rated
Avvo client choice award 2011, 2012, 2013 and 2014 for Immigration
Avvo "Superb" Rated Attorney
Lead Counsel Rated Attorney for Immigration
Hosted weekly radio show "Common Sense" 10/2012 to 1/2014 and appeared on local television news for interviews as well as local radio stations in South Florida and Chicago regarding legal issues
"Rising Star" Orlando Style Magazine 2014
"Who's Who Legal Community" 2014
Author Article entitled "National Interest Waivers for Outstanding Researchers to the US" on Ezine articles, 2014.
Guest Lecturer 2012 at University of Central Florida at symposium on immigration.
Guest Lecturer 2014 Real Estate Association, Orlando, Florida – topic of selling to foreign investors
Guest Lecturer 2016 Florida Hospital, EAD cards for spouses
Guest Lecturer 2016 at ARM, Inc., traveled to offices in San Jose, California and Austin, Texas to speak on H-1B filings and general immigration matters
Guest Lecturer 2017 at ARM, Inc., traveled to offices in San Jose, California and Austin, Texas to speak on H-1B filings and general immigration matters
Guest Lecturer, September 2018 conference on Global Mobility in Madrid, Spain hosted at La Liga, Espana. Lectured on the topic of Short-Term Assignments to the United States
Guest Lecturer, September 2018, seminar in Madrid, Spain entitled "Practical Aspects of Human Resources in the United States, hosted by ABG Personas. Lectured on two separate days, on the topics of US Immigration and Employment Law pertaining to the movement of workers to the USA
Admission to Practice
Member of Florida State Bar
Member of Middle District of Florida
Member of Washington, D.C. Bar
US Court of Appeals 5th Circuit
Authorized to Practice Immigration and Nationality law in all 50 states