Many immigrants come to American with hope and excitement, ready to start their lives as productive members of society in the land of the free and home of the brave. Of course, this means that they most likely want to become citizens as soon as possible.
The truth is that the path to U.S. citizenship can be very different for any two individuals. The best way to see what your specific path will look like is by contacting an immigration attorney who can find the best option suited for your situation.
With that said, it's important to understand the process of naturalization and how your ci7.rcumstances apply.
General Steps to Neutralization
In order to qualify for citizenship, you must meet a few basic requirements: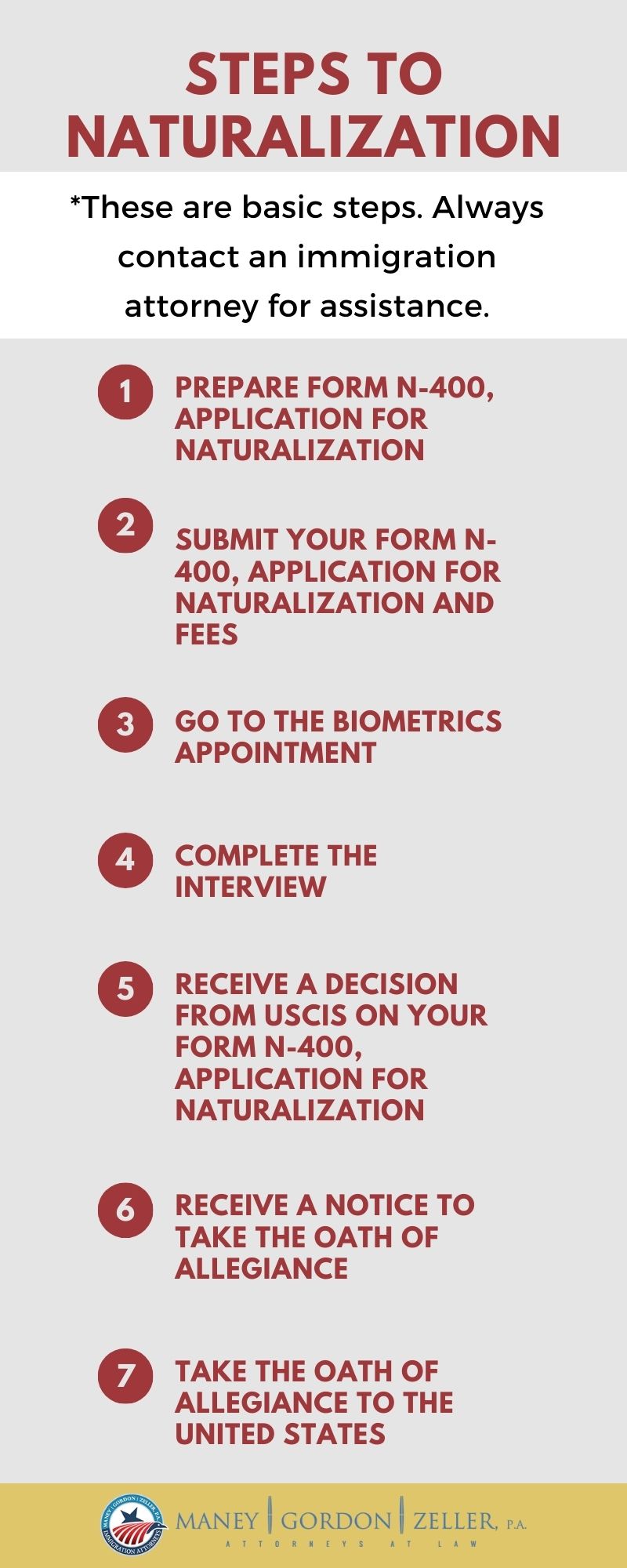 Must be at least 18 years old (unless adopted by a U.S. citizen)

Can claim to be a lawful resident of the United States for a minimum of five years

Can demonstrate a solid understanding of the U.S. government and its history

Able to speak, read, and write English

Have good moral character and a favorable disposition towards the United States
If you meet all of the above requirements, your attorney will guide you through the following steps to naturalization:
Prepare your Form N-400, Application for Naturalization. Collect the necessary documents to demonstrate your eligibility.

Submit your Form N-400, Application for Naturalization and fees. Once you submit this online, U.S. Citizenship and Immigration Services (USCIS) will send you a receipt and you will be able to check the status of your case online.

Go to the biometrics appointment. If you need your biometrics taken, USCIS will send you an appointment date, time, and place for you to go and have them done.

Complete the interview. Once the preliminary process is done, you will receive a notice for a USCIS interview with a date, time, and place.

Receive a decision from USCIS on your Form N-400, Application for Naturalization. You will receive a written notice of decision regarding your application with one of three options: granted, continued, or denied.

Receive a notice to take the Oath of Allegiance. If your citizenship is granted, you will receive a date, time, and place to participate in a naturalization ceremony.

Take the Oath of Allegiance to the United States. You will not be a U.S. citizen until you take the Oath of Allegiance.

Understanding U.S. citizenship. Now, you have all the rights and responsibilities that all American citizens—by birth or by choice—should respect and exercise.
Discover Your Legal Options
As you can see, there are numerous steps to becoming a U.S. citizen that require time and knowledge of deadlines and strict legal procedures. Whatever your current situation is, we understand that it is a unique one that requires a personalized and strategic legal plan.
At Maney Gordon Zeller, our immigration attorneys are dedicated to helping immigrants pursue the American Dream. Since we first opened our doors over 40 years ago, we have helped countless individuals nationwide achieve citizenship and guiding them through the naturalization process. We are here to work on your behalf, too.
Contact our immigration lawyers at (800) 708-4399 to discuss your legal options.